United Arabian Emirates Jiu-Jitsu Federation is on the frontier of innovations in sport jiu-jitsu. UAEJJF just announced a new step that will work toward innovating the sport.
Throughout the ages Brazilian jiu-jitsu competitions have been predictably dominated by natives of Brazil. As a result most major competitions have more than 70 percents of final matches happening between two Brazilian athletes. For World Pro the number is even tighter – the prestigious tournament coupled with great rewards often meant that the finals are close to a 100% Brazilian.
In an effort to diversify jiu-jitsu UAEJJF presented a new way of forming the brackets – now there are The country Qualifiers.
The Country Qualifiers are designed as a prequel to the World Pro which will be taking place next Thursday April 20th.
This new qualifier is focused on selecting the best players from participating nations who will then qualify for the tournament.
BJJHeroes provided a picture depicting how The Country Qualifiers will work: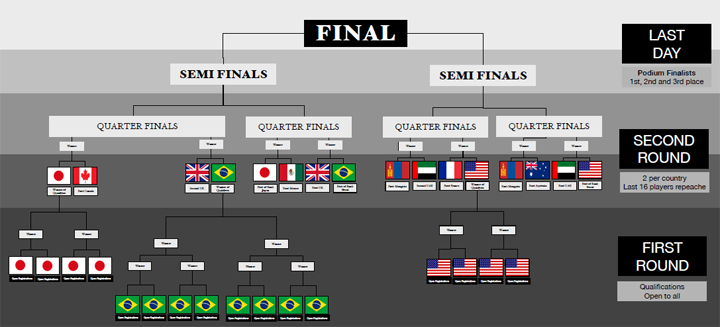 The Country Qualifiers promise to stir the discussion and help forward the world of competitive jiu-jitsu.
What do you think about this innovation? Weight in in the comment section
Abu Dhabi World Jiu-Jitsu Festival
Monday 10th April – Saturday 15th April 2017 (Extended 6-day tournament)
Abu Dhabi World Youth Jiu-Jitsu Cup
Sunday, 16th April – Monday 17th April 2017 (2-day tournament)
Abu Dhabi World Professional Jiu-Jitsu Championship 2017
Tuesday, 18th April – Saturday 22nd April 2017 (5-day tournament)
Abu Dhabi World Jiu-Jitsu Legends
Saturday 22nd April 2017 (New program)
Location: IPIC Arena, Zayed Sports City, Abu Dhabi (except for Abu Dhabi World Jiu-Jitsu Awards)