Don't react to your opponent. Make your opponent react to you. Reactions can be predicted, and taken advantage of.
Guest post by Belgian BJJ black belt Wim Deputter, head instructor at Brasa Team Belgium.  https://www.instagram.com/wimdeputterbjj/
The Four Threats
In Jiu Jitsu there are four main ways to make your opponent react to you. A properly executed threat, should in general leave your opponent only two options.
Listed from weakest to strongest:
1) Off balancing:
An opponent out of balance has the choice to let you come on top, or recovering his balance by posting and pushing back against the force pushing him out of balance.
(2) Pressure:
Bernardo Faria putting intense pressure on Leandro Lo: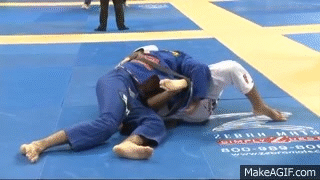 Pressure, when not adressed, will drain your opponent of his stamina. The opponent has to create space either by pushing (bad) or framing, bridging and hipescaping.
(3) A lock:
The threat of a lock blocks your opponent from moving in one direction and gradually forces him into the opposite direction.
The opponent has the choice between going with the direction of the force or possibly injurying a limb.
(4) A choke:
Nicholas Meregali opens up the pass against Lucas Leite with a loop choke from top half
The choke is the king of the threats.
While a lock can be ignored at the price of possible injury, a properly executed choke has to be adressed. The opponent has the choice between defending his neck, with his hands or be turning his chin in, or passing out.
In a roll outside of a competition environment, were time and points act as an external oppressor, the threat of a sweep or takedown can be largely ignored. You only lose position.
Pressure can be ignored for a good amount of time, until you are completely drained.
With a lock you still have the 'choice' of risking your limb.
A properly executed choke is the only threat were all choice is taken away.
Like I remember Chris Haueter @ChrisHaueterArt saying at the @BjjGlobetrotter camp last year in Belgium: "When possible, always be choking".
Learn The Self Taught Secrets That Have Allowed Adam Wardzinski To Become The Best Butterfly Guard Player On The Planet – While Training In Poland! In The Past Year Adam Has Beaten World Champions like Erberth Santos, Muhammed Aly, Isaque Bahniese and ADCC Champ Vinny Magalhaes With His Butterfly Attacks.
You too can unlock one of the sharpest and most effective guards in modern grappling, with this exclusive 4 part video series from Adam Wardzinski. He's traveled around the world and back, perfecting and rediscovering the modern butterfly, and he's here to share it with you! With sweep after sweep, submission after submission, and much, much more, this is a can't miss piece of jiu-jitsu knowledge that has to be seen to be appreciated!
For The First Time Ever, Lucas Leite Shares
His World Famous Coyote Half Guard Adapted For No Gi
. Learn The Weird Techniques that Lucas Leite uses so well against bigger opponent's that he voluntarily enter tournaments in the ultra-heavy division with an almost 100 lb weight deficit.