Guest post by Evolve MMA, Asia's premier championship brand for martial arts. It has the most number of World Champions on the planet. Named as the #1 ranked martial arts organization in Asia by CNN, Yahoo! Sports, FOX Sports, Evolve MMA is the top rated BJJ gym in Singapore.
Marcus "Buchecha" Almeida picked up Brazilian Jiu-Jitsu (BJJ) because his father brought him to the gym when his sister trained in BJJ, but it did not take long before Almeida was bitten by the BJJ bug too. Buchecha started dominating tournaments in his days as a colored belt and was promoted to black belt in 2010 on the podium.
Following his promotion, "Buchecha" continued to reign supreme in the highest international BJJ circuits, including the Pan American Championship, No-Gi World Championship, Abu Dhabi World Cup, IBJJF World Championship, and ADCC from 2011 to 2019. He eventually racked up a stellar record of 128-13-1, with 67 submissions. "Buchecha" teased a move to mixed martial arts (MMA) in 2015 but only made the leap in July 2020 when his move to ONE Championship and the famed EVOLVE Fight Team was made public.
"Buchecha" has transitioned very well from his grappling background into the hybrid sport in the heavyweight division, using his world-class ground game as an excellent base to finish his opponents in the Circle. But on Aug 27th, "Buchecha" will face his strongest opponent yet: Kirill Grishenko. Here are three reasons to catch this clash between two rising heavyweight stars at ONE Fight Night 1.
1) Honing Strikes To Perfection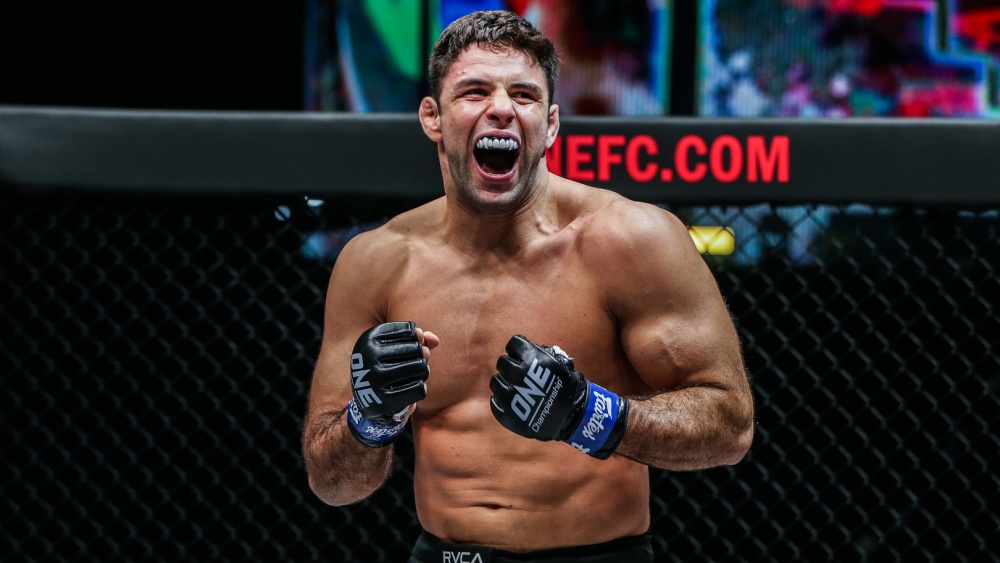 In his preparation for the upcoming heavyweight face-off, Almeida revealed that he has been working on his boxing with former IBF Featherweight Champion Ivan de Oliveira, who ruled the IBF featherweight division in his heyday, and Jason Parillo, Head Coach at RVCA and former professional boxer who has trained numerous MMA champions, including B.J. Penn, Tito Ortiz, and Vitor Belfort.
The 13-time BJJ World Champion shared two clips of him training in the sweet science with these two luminaries, his boxing skills looking absolutely on point. His sharpened striking will be a dangerous addition to his already formidable arsenal of grappling know-how.
On top of training with Oliveira and Parillo, "Buchecha" shared that he has trained one-on-one with Reinier de Ridder, the current ONE Light Heavyweight World Champion and ONE Middleweight World Champion. Almeida seems to have been greatly inspired by the training with "The Dutch Knight", saying:
"The training was really great, actually. It was amazing to train with him because he's coming from a grappling background, and you see how he used his Jiu-Jitsu.
"I want to use my Jiu-Jitsu as he used his in his fights in his career. So that was really inspiring for me and a great opportunity. It was amazing the way that he trains, the way that he felt the game. It was great for me, not just to train but to learn a lot with him."
Almeida already exhibited his striking prowess with a blistering ground-and-pound that finished Simon Carson at ONE 158, while Grishenko is known for his heavy punches. With Almeida working hard to elevate his striking to new levels, we are eagerly anticipating "Buchecha" to showcase a stand-up game that is on par with his grappling genius at ONE Fight Night 1 on Aug 27th.
2) Next In Line For The Belt
By any measure, "Buchecha" has done remarkably well in his MMA journey so far. Given that Almeida has already reached the pinnacle of BJJ stardom with 13 IBJJF World Championships under his belt, we're all wondering: is "Buchecha" eyeing a shot at the ONE Heavyweight Champion title?
Russian Anatoly Malykhin is holding the ONE Interim Heavyweight Championship, while Arjan Bhullar holds the ONE Heavyweight World Champion. The two are expected to face off in a unification bout at some point in the near future.
Suppose "Buchecha" continues his flawless run and finishes Grishenko, who was a previous title contender, as he has against his last opponents in the Circle. In that case, he could have a shot at the winner of the inevitable Bhullar vs. Malykhin bout. That would place "Buchecha" in the rarefied halls of being a World Champion in two different disciplines.
But Almeida has remained relatively sanguine about gunning for the heavyweight title:
"Maybe when it's time for me to fight for the belt, maybe somebody else [other than Bhullar and Malykhin] could have the belt," he said. "I'm focused only [on] my next step, my next goal, my next opponent.
"After that, I'll think about the next. I'm in no rush. The more time I'm away from the belt, the more experience I'm getting. I don't mind waiting."
Whether "Buchecha" does get a shot at the ONE Heavyweight Champion title or not, there is no denying that he has definitely a strong contender for the ultimate prize in the division. ONE Fight Night 1 on Aug 27th is a night for "Buchecha" to demonstrate that he is on track to the title.
3) Only One Will Remain
Almeida may be working hard on his striking and claiming that his stand-up game has reached new heights, Grishenko is not impressed with what he has seen so far. The Belarusian, who has a strong foundation in Greco-Roman wrestling and is known for his heavy punches, stated:
"He has impressed me with his skills on the ground, but not with his striking – it is too basic, too slow. If he wants to stay at the top of the game, he needs to become a well-rounded fighter. "I know what I'm capable of. He's got the advantage on the ground overall, and particularly in grappling, but not by a landslide. I can beat him in striking. I'm working on my striking a lot right now and my [wrestling] base means he will struggle to take me to the ground."
"Buchecha" has undeniable world-class expertise in BJJ and is a multiple-time ADCC no-gi BJJ World Champion, but Grishenko is no slouch when it comes to grappling either: he started training in Greco-Roman wrestling when he was in the third grade and has won two European Championships along the way. His expertise has also led him to coach Olympic athletes in the National Olympic Training Center in Minsk, Belarus.
While "Buchecha" may have finished all his MMA opponents in the first round, Grishenko has done the same. Grishenko finished his first three opponents in the opening round at the start of his MMA career, two of which came by TKO. Within ONE Championship, Grishenko also forced a loss from "Reug Reug" Oumar Kane in the second round, and handed Dustin Joynson his first career loss.
Looking at their fight records, "Buchecha" and Grishenko have a dangerous habit of finishing their opponents. Both men have strong foundations in grappling, so if the fight does go to the mats, then fans can expect a grappling masterclass.
But all fights in the Circle start standing up, so the clash on Aug 27th is definitely beginning with explosive strikes from both fighters. With world-class grappling know-how and vicious strikes in their arsenal, this match is not going to the judges: only one man is going to remain standing.
Don't miss Marcus "Buchecha" Almeida as he squares off with Kirill Grishenko at ONE Fight Night 1 on Aug 27th!