Guest post by Evolve MMA, Asia's premier championship brand for martial arts. It has the most number of World Champions on the planet. Named as the #1 ranked martial arts organization in Asia by CNN, Yahoo! Sports, FOX Sports, Evolve MMA is the top rated BJJ gym in Singapore.
Brazilian Jiu-Jitsu players have debated about the best fighters in the history of the sport for years, and the answers you typically get vary from person to person. With BJJ being the fastest-growing martial art in the world for the past few decades, keeping track of the best fighters in the sport can be quite a challenge.
The 20 Greatest BJJ Legends Of All Time
Ready to find out who the best fighters in the history of Brazilian Jiu-Jitsu are? Let's jump right into our list:
Roger Gracie is one of the most accomplished BJJ players to ever live, with 16 medals in international tournaments and a handful of silver medals. He was the first man to finish all of his opponents at the ADCC tournament, and the first contestant to win three gold medals in the open weight division.
He also holds wins against many of the top grapplers on our list like Marcus Almeida, whom he submitted in his last pro grappling match.
Gracie later transitioned to mixed martial arts, where he finished with an 8-2 record. He won the inaugural ONE Championship Light Heavyweight title in his last MMA fight.
Almeida is one of those names that often come up when the best BJJ fighters in the sport's history are discussed, and for many good reasons. He certainly has had one of the most impressive win streaks in Brazilian Jiu-Jitsu, winning several IBJJF black belts world championships from 2011 to 2019.
He dominated the gi 100 kg and absolute divisions for over eight years and came second place to Leandro Lo in 2018. He lost a closely contested match with Gordon Ryan in 2019.
Almeida has over 29 gold medals from international tournaments and a 128-13-1 professional grappling record. Buchecha transitioned to mixed martial arts in 2021, fighting under ONE Championship's banner. He currently sports a 4-0 record, with three of his wins coming via submission.
While Marcelo Gracie's prime competition days might be behind him, his body of work makes him the best BJJ fighter of all time. He stopped competing in 2011 with an 80-11 official tournament record. More importantly, Garcia holds wins against some of the biggest names in the sport like Andre Galvao, Leo Viera, and Kron Gracie. He holds a total of 12 gold medals in international BJJ competitions and five world championship titles.
Garcia is particularly famous for his chokes, especially the "Marcelotine," which is a more effective variation of the guillotine he developed. Now 40, Marcelo is currently a 4th-degree black belt under the tutelage of Fabio Gurgel. He now spends most of his time running his schools and teaching BJJ.
4) Rubens Charles Cobrinha
Cobrinha started BJJ at the age of 21, but that didn't stop him from willing gold medals at IBJJF gi tournaments in 2006, 2007, 2008, 2009, and 2017. Cobrinha's accomplishments are even more impressive when you factor in the fact he started training later than most multiple-time black belt champions.
Cobrinha is also a member of the select club of BJJ players who received their black belts about five years after they started training. He won his first international tournament a year after that.
Known for his entertaining aggressive style of BJJ, Cobrinha is also viewed as one of the best guard players ever. He is currently 43 and runs several BJJ schools in California.
5) Leandro Lo
Leandro Lo is a highly decorated BJJ player with over 28 gold medals in international tournaments. He dominated IBJJF tournaments from 2012 to 2016 and sports a 257-36 professional BJJ record. Leandro's body of work makes him one of the most decorated BJJ players of all time, and he was primed to accomplish more great things before his untimely death.
Lo was shot in the head in 2022, following an altercation in a nightclub. He was 32 years old at the time, and a first-degree black belt under Cicero Costha.
6) Beatriz De Oliveira Mesquita
Mesquita is arguably the most dominant female BJJ player to ever compete. Beatriz won IBJJF Gi championships in 2014, 2015, 2016, 2018, and 2019. She also won a no-gi tournament in 2018. Mesquita started training BJJ at the age of five and she was one of the sport's rising stars by the time she was a teenager. She received her black belt under Leticia Ribeiro in 2011 at the podium of the IBJJF Pan American Championships.
Mesquita has over 38 gold medals in international BJJ tournaments and a bronze medal in 2022.
7) Alexandre Ribeiro
Ribeiro is a five-time black belt world champion, three-time black belt pro division champion, and two-time absolute world champion. He also had a short stint as a mixed martial artist, winning his two professional MMA fights, ironically via knockouts. Ribeiro also defeated the legendary Roger Gracie in 2008 via points. Now 42, Ribeiro spends most of his time teaching Brazilian Jiu-Jitsu.
8) Romulo Barral
Barral started training under the Gracie Barra system at 15 and went on to submit over 60 opponents in 103 grappling matches. His signature submission is the cross choke, with which he tapped 28 percent of the people he defeated with.
Barral won over 11 gold medals at international tournaments as recently as 2014 and is widely known for helping MMA fighters to modify their grappling techniques for mixed martial arts. Barral also gave mixed martial arts a go, winning his only two fights via submission before walking away from the sport.
9) Bruno Malfacine
Malfacine was the first contestant to win ten world championships at IBJJF tournaments in the same weight class. He's also one of the most entertaining participants in the history of BJJ with 40 of his 63 wins coming via submission.
Malfacine is widely viewed as the best rooster weight competitor of all time. He transitioned to mixed martial arts in 2017 and sports a 3-0 record, with all three of his wins coming via submission.
10) Ronaldo "Jacare" Souza
"Jacare" won 11 gold medals at international grappling competitions during his prime and a handful of silver medals. Nicknamed "Jacare" (which means alligator in English) thanks to his signature alligator crawl onto the mat and gator-clamp celebration he often did after his wins.
Jacare transitioned to mixed martial arts in 2003 and went on to win the Strikeforce middleweight title, which he successfully defended once. He eventually signed with the Ultimate Fighting Championship where he was a top contender for most of his career. He retired in 2021 with a 26-10 pro MMA record.
11) Rafael Mendes
Rafael isn't just an excellent BJJ competitor, he's also known for popularizing the 50/50 guard and Berimbolo. He has 15 gold medals in international BJJ tournaments and is widely regarded as one of the best featherweights in BJJ history, along with his brother.
He's also one of the few fighters who has won gold medals at international competitions as a blue, purple, brown, and black belt.
12) Saulo Ribeiro
Saulo is one of the most technically savvy BJJ players to ever live. He won 22 gold medals at international competitions in four different weight classes while working his way through law school. He went on to write a book called  Jiu-Jitsu Academy.
13) Rickson Gracie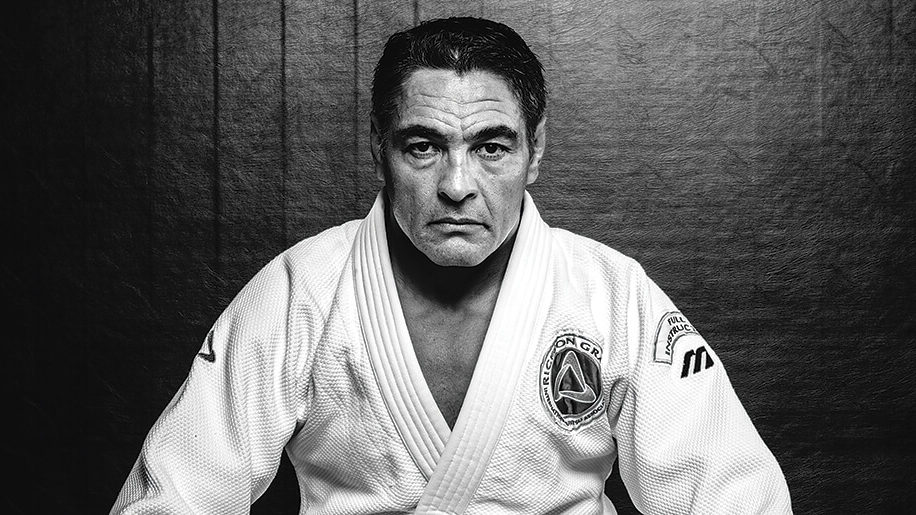 One of the biggest names in BJJ and MMA history, Rickson is one of the sons of the legendary Helio Gracie and rumors claim he's undefeated in all martial arts he ever tried. The craziest part is that might actually be true since he's indeed undefeated in all of his recorded fights.
He went 8-0 from 1981 to 1988 at BJJ tournaments, winning a gold medal at the Pan American Championships. He went 11-0 in his recorded MMA fights and competed at the first and fourth Pride events.
14) Leonardo "Leozinho" Vieira
Viera is one of the most entertaining Brazilian Jiu-Jitsu players to watch, and he's a force to reckon with on the mat. He won five international tournaments during his competition days, including a pair of ADCC World Championships.
He's also coached some of the best BJJ fighters to ever lived like Lucas Leite and Marcus Almeida. Now 46, Viera now runs the CheckMat Jiu-Jitsu team.
15) Fernando "Terere" Augusto
A member of Evolve MMA, (never heaerd of this) Augusto has two gold medals from international competitions, and four regional titles under his belt as a competitor. He also has a single MMA fight under his belt.
16) André Galvão
Galvão technical savvy earned him six IBJJF gold medals, ten Pan American Championship gold medals, and six ADCC gold medals. He finished with over 157 wins in pro circuits, with 73 of his wins coming via submission. André Galvão eventually transitioned to MMA where he retired with a 5-2 record.
17) Charles Oliveira
Charles Oliveira doesn't have as many accolades as most of the names on our list, but there's no question he would if he'd decided to keep grappling instead of transitioning to mixed martial arts. Within the first four years of Oliveira training in BJJ, he won three gold medals at major tournaments and a silver medal. He then transitioned to MMA and eventually got signed by the UFC where he holds the record for most submissions in history. He's a former lightweight champion and successfully defended the belt once.
18) Victor Hugo
Hugo was a force to be reckoned with regardless if he was wearing a gi or not. He won seven gold medals at international competitions as a black belt and almost as many as he worked his way through the ranks. He holds wins against some of the most respected grapplers in the world like Rodrigo Ribeiro.
19) Damien Maia
Maia won a handful of gold medals at major BJJ tournaments before making a transition to MMA. At his peak, he was one of the most dominant BJJ fighters in the history of mixed martial arts, effortlessly taking opponents to the ground and tapping them out.
20) Marcio Feitosa
Feitosa is a 6th-degree black belt who trained under Carlos Gracie Jr. He won several gold medals at international BJJ competitions between 1997 to 2006, and defeated many of the top grapplers of the era like Royler Gracie, Vitor Ribeiro, and Leo Viera. He now runs and instructs at Gracie Barra schools.