Source: (translated from Portuguese from sportv.com). Roger Gracie . At 31, he is already a 10 times Jiu-Jitsu World Champion but he has been searching for new challenges, starting in 2006, in a process of gradual migration to MMA which lasts until now. Roger will from now on, be fighting in the UFC , the largest mixed martial arts organization in the world. From atop his 1,94 m, Roger received the report of SPORTV.COM for a chat by the beach of Ipanema. With calm way and quietly talked about the adaptation to the middleweight category, learning from his loss to King Mo, and recent criticisms of the UFC light heavyweight Thiago Silva towards his family, Roger lamented:
What is the purpose of coming to Brazil this fall? Had to do with the chance to train at Team Nogueira?
I came to Brazil for a vacation. I had already planned my trip. Everything was organized for me to come with my family (wife and son) on holiday. Then, 15 days before I was supposed to travel, my agent contacted me and said that Strikeforce had called to ask if I wanted to fight in January at the last event. We talked and came to the conclusion that maybe it would be cool to participate in this event, the last Strikeforce. It will be an interesting fight against Anthony Smith. Then began the change of plans. I was talking to my wife: "Honey, sit there. 'Holidays will go exactly as we planned" But it was okay. Here is my family, my sisters, I can get tanned. And here's there is Team Nogueira. I think that if they were not here I would have canceled my coming here and going to the United States. As I knew they had a training center and the Nogueira brothers are training … Nogueira will fight in February, is in a strong rhythm training, Bigfoot is here too, so there are several athletes.
Did you find a sparring partner with a similar body type like Anthony Smith height (1.93 m) ?
We try to get as close as possible. Somebody like him is hard to find (laughs). There are some senior guys there, do not know if the same height, but they're similar.
But you trained with Stefan Struve (which has 2.13m) recently. He even said that he felt like a white belt training with you.
He's big, he's tall. I trained with him on the ground. He does jiu-jitsu for a long time, but is a brown belt, he hasn't reached the black belt level yet. He lives in the Netherlands so he's not used to train with people with a high-level in jiu-jitsu. I am already a black belt since ten years, so it is something totally different. For those not familiar … I guess he had not trained with someone at my level in jiu-jitsu yet, so was a bit shocked.
In a recent interview, you said you could even return to heavyweight because it's difficult for you to cut weight to reach the middleweight limit. But this time you accepted the fight on a very short notice. How is the process going?
I'm 98kg at the moment, I have a month to lose 14kg. This is a critical moment, I have to follow the program 100% to not let happen what happened in my last fight when I was 12kg above the middleweight limit four days before the fight. This greatly influenced my performance. I won, it was a good fight for me, but I got tired. I was already tired before entering the ring. That changed my whole strategy. Before entering the fight I knew I could not accelerate the pace too. Keith Jardine came with a very strong pace but I managed to control the fight when we went to the ground in some good positions and he also got tired. In the last round it was a bit of a struggle, a chess game. Now, I think it will depend on this: Each week, I have to lose 2kg here.This may affect my performance come fight time. If this keeps happening, I'll have to change category.
Many people say that the middleweight category is the least disputed the UFC. Do you think that you can challenge for the title?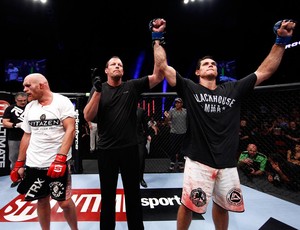 It's a difficult question to answer. I think that if you ask any fighter if he has a chance to be champion, he will tell you that wants to be champion and has a chance to win. I strongly believe in myself and think that if well trained, I can win. We're in the sport to give the utmost of ourselves, to compete against the best. This category is tough because there hasn't been a change of champion in a long time. Anderson Silva has dominated for a long time. There are athletes that are really good, but during fights he (Anderson) shows that is far ahead of many people. Fighting is fighting. He can keep winning forever, but he might lose the next … It is difficult to predict. He has a very strong dominance, but if there is suddenly a chance for me to face him, of course, in my head, I'm fighting because I think I can be champion and I can beat everybody. We will see a load of good fighters out there, Jacare, Rockhold …
Do you think that there would be some kind of hindrance for you and Anderson to fight since you are now in the same team?
I would think the fight will be harder to make. Especially because sometimes I go to Los Angeles to train, we (he and Anderson) just train together. So it sucks you have to fight someone of the same team. As hwe hgave the same manager(Joinha), I think that we will try to avoid it as much as possible. You also have Lyoto and Glover, who train together, are two heavyweights … If you reach the point where you have to fight for the belt, there's no other way. In my case, I think Anderson would fight only if the title is at stake. Anyway, I do not know how long he will fight too, many people say that he is close to retiring. I hope that he continues fighting, he's a phenomenal guy.
Signing with the UFC, do you plan to continue living in London?
I think so. I've created very strong roots there. My wife, my son is in school there, my academy … As I manage to get training high-level living there, I will continue. If I find that I'm being not progressing, that I have to leave to continue being a top athlete, then I would think about it. I have myacademy there, I have no one who can take care of it. I cannot leave my business in the hands of anyone, at least for now. Until now, I lived there and trainned perfectly. But if you get to a point where you think that you cannot keep improving as a top athlete, either I give up and I retire or I go elsewhere.
What are you most lacking there in London in relation to training?
Training MMA, because my academy is mostly jiu-jitsu. I've been there several years, and have a staff with whom I can train in Kimono there, my students, Braulio… But MMA is difficult because I have no professional athletes training with me there. So we try to meet some guys to train there, sometimes I can, but it's not a constant thing. I cannot find a good gym to train in wrestling too.Over here, there are only MMA athletes at a high level … The Team Nogueira has the Nogueira brothers, Bigfoot, a good amount of athletes competing MMA. I'm going to Los Angeles and have Lyoto, Glover … I'm going to New York and have Renzo, with my cousins … At this level, London is not even close.
What is your greatest motivation in MMA today? It is to show the efficiency of jiu-jitsu, is it financially or do you have some other?
I guess that it is a little bit of everything. I always knew, since a kid, when I started training jiu-jitsu more seriously and established that jiu-jitsu would be my life, that I would be fighting one day. And since I earned a black belt, I've been ready, the next step would be MMA. I think for everyone in my family, this was the way they all did it. First because I have the last name Gracie, I think, not out of obligation, but I think it's like a duty that I represent my family before the fight. It's already quite competitive in jiu-jitsu, I intend to compete even more, but it's kind of a duty. I want to go to MMA because I think I should, because I chose this path for myself.
Did you have receive family support when you moved to MMA?
Several people in my family supported me. Support me today, encourage me. Sure some came to talk to me who thought I should not fight because the rules have changed a lot today, are not the same as before – With time limits which make it hard for you to prove the efficiency of jiu-jitsu. What is true, is that the rules nowadays disadvantage the pure ground fighter. I think there is no more that point to prove which is the best martial art because it has now become almost a sport. There are several other things in there that can make a certain type of fighter win. if they changed the rules, like making it a no time limit fight, it for sure would change many champions. But I think, I'm young, I'm 100% healthy. It's a pleasure, I like to train, this feeling of having to compete, you have to face another opponent, all this motivates me to fight too.
Many people say that you and Rickson were the best jiu-jitsu fighters ever. Do you agree with that?
It's hard for me to say that Rickson and I were the best. Especially because in my family are several generations. Each generation, so to speak, there was the champion of the family, or who at that time was considered the best fighter in the family. It started with my grandfather Carlos, came after the brothers, Jorge, had Helio, who came out ahead. After Helio, came Carlson. After Carlson, Rolls. Rolls, Rickson. Hence, many now say that I am. I think you cannot compare one generation to another, it would be an impossible thing. The time limits in jiu-jitsu, the rules, the mechanism that the person had at that time there to compete … The challenges are changing, jiu-jitsu evolves, things change a lot. So it would be unfair to other athletes up, not only with my family, we're talking about the best thing that you cannot prove with previous generations. Each had his time, his moment.
Of the athletes who are competing in jiu-jitsu today, who haven't debuted in MMA yet, who do you think would be successful?
(pause to think) Look … To be honest, it's hard, man. Because there are many athletes out there who, for what they do best in jiu-jitsu, if you do this kind of game in MMA, forget about it. Today jiu-jitsu hasso focused on the guard, you win by a scraping … You have this 50-50, there are many people using that… That sort of thing in MMA … will not work much, you leave yourself open to punches kicks, footlocks. They are great athletes to get where they are and manage to adapt, which I think everyone can, and can be great MMA fighters too. If you get too addicted to that guard game, with holding sleeves, when you go to MMA, none of this will work. This has happened with some, right? They failed to become big names in MMA. They won some fights and certainly are very good athletes, but they could not be in MMA what they were in jiu-jitsu.
Besides you, another important name of jujitsu that is getting quite a career in MMA is the Gilbert Durinho. What other fighters you cite?
Durinho for sure. Demian Maia changed weight category now has a good chance of being champion. I think Braulio, who has made his first MMA fight. He wants to fight more and thinks about moving to Miami to dedicate himself to MMA training. Braulio is a great athlete. It is who I work out with the most (Braulio also lives in England). I think his jiu-jitsu is phenomenal and, if you can dedicate himself, can be a big name in MMA.
Recently, Thiago Silva criticized the Gracie family, saying that they had a "false reputation," monopolizing jiu-jitsu and prejudice "athletes who train hard and dedicate themselves to truth." What you have to say about it?
It's a shame that an athlete of his level cannot see things that are clear in front of him. The family has a great history, practically invented the MMA world. So for us to be involved with this for so long, there are always people who will be against it. It is impossible that you find something that is 100% in favor of everyone. There are always against people who did not like an attitude, a result of something, and ended up blaming the family. This is not even worth commenting on. There are so many things that my family has done and does to this day, they cannot even respond to that kind of comment.
Will it be an extra motivation to push Joe Silva to make a Roger Gracie x Thiago Silva fight in the UFC?
Who knows? (Laughs) If I decide to change category …
What do you think of your cousin Kyra in MMA? Will you support her, but we know that the family is a bit divided about it.
Kyra is at a time when she should go now or else it will be too late. Because it is not a simple thing. It's much more different than fighting Jiu-Jitsu or no Gi.. She has never fought in these rules. She never exchanged punches and kicks with anyone. So there is a lot more than what she is used to. Just two months to prepare for a fight is very little. Some people take eight to ten weeks to prepare physically for a fight. But I think that technically, even more than that …She has planned it well and has already started training so we'll see.