Brendan Schaub is a retired football player, former UFC fighter and American podcaster. He is known to the grappling community through his tenure in the UFC, being featured in Metamoris in what many call a shameful performance against Roberto Cyborg Abreu and as a frequent guest on the Joe Rogan Podcast.
But in spite of his reluctance to go toe to toe with Cyborg he is, or shall we say is, now a BJJ black belt under Amal Easton a Renzo Gracie black belt.
Schaub was promoted by Easton over the weekend.
"In 2007 I walked into a jiu jitsu gym in Aurora, Colorado unaware id meet some of my best friends and mentors for the rest of my life. Achieving a black belt seemed impossible at times. Today was a big deal for me. There are so many people to thank from coaches to training partners. Denver to LA. I love all of you. Renzo Gracie, Amal Easton, Eliot Marshall, Christian Allen, Cody Donavon, Jeff Suskin, Rener Gracie, Ryron Gracie, Brian Ortega, Kron Gracie, Nate Marquardt, Lyoto Machida, Shane Carwin, Loren Landow, and Mark Munoz. ♥️"
View this post on Instagram

A few years ago on Joe Rogan's  fight companion he revealed that he was demoted to a white belt at Gracie Academy when he was a brown belt:
"That happened to me when I first got to Gracie Academy. They made me wear a white belt for a long time. I got a brown belt from someone else, I was a white belt for a while. "

when further prompted by Joe Rogan:

"Wait a second Amal Easton gave you a brown belt and you had to wear a white belt? That is insane"
Amal Easton pictured alongside some huge names in the sport (source:bjjheroes.com):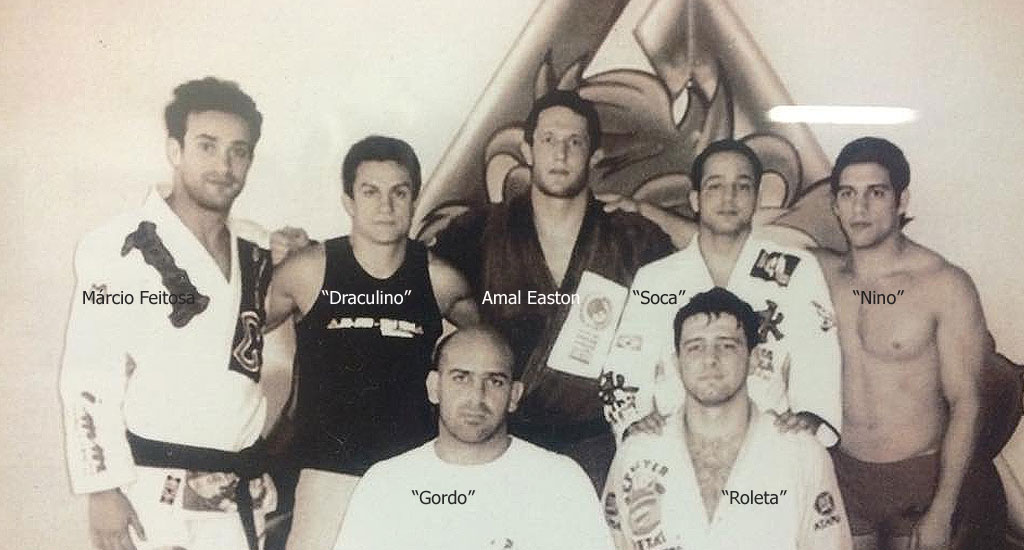 Schaub revealed:

" Yo it was like just for the first few weeks, just to see where my level was at. "

Rogan wouldn't let it go since he's obviously familiar with the quality of Amal Easton:

"But you're an Amal Easton belt that's very very legit. That's not like Freddie Mercury, some f**king dude from the Midwest…"

Schaub added: "When I trained in Brazil too they made me wear a white belt."

Rogan went on to call that happening disrespectful: "That's so disrespectful!"

Schaub claims he was not jaded about the experience:

"I had no issue with it. I literally didn't care but I would tell guys I'm not a white belt like- I'm not a white belt I know what I'm doing brother. "
UPDATE:
Official statement from Brendan Schaub:
On the most recent Fight Companion podcast, I mentioned that I wore a white belt at the Gracie Academy for a few weeks when I first arrived, even though I was already a brown belt in BJJ. My miscommunication on the issue caused some people, including Joe Rogan and Bryan Callen, to think I was demoted by my instructors, Ryron and Rener Gracie, and it's not true. When I moved from Colorado to Los Angeles, we trained mostly no-gi, so when we rolled in the gi occasionally to mix up the training and sharpen my defense/escapes, I would wear a loaner gi and a white belt that came with the gi (since they didn't have loaner brown belts). After several weeks I began bringing my brown belt on gi days and I've worn it ever since. I have never seen Ryron or Rener demote anyone, and I have nothing but respect for them and everything they've done for jiu-jitsu. -Brendan Schaub
And just in case you were wondering this was While Schaub was in the UFC!