Celebrated chef and BJJ blue belt Anthony Bourdain has been found dead in a suicide by hanging on June 8, 2018, in his hotel room in Strasbourg, France. Bourdain was filming an episode of Anthony Bourdain: Parts Unknown.
Bourdain took up bjj when he was 58. Thanks to bjj he slimmed down 30lbs/14 kgs. He received a blue belt in Brazilian jiu jitsu in August 2015 and won gold at the IBJJF New York Spring International Open Championship 2016, in the Middleweight Master 5 (age 56 and older) division.
CNN first reported the news.
Bourdain has so far trained in New York, Scotland, Los Angeles, Hungary, Miami and South Korea.
"I'm easily in the best shape of my life."
"That really wasn't the intention at all. I didn't get into this for my health. But I thinks it's a byproduct of (when) you come in every day, try real hard not get your ass kicked."
He was recently spotted vacationing with his new girlfriend looking insanely good: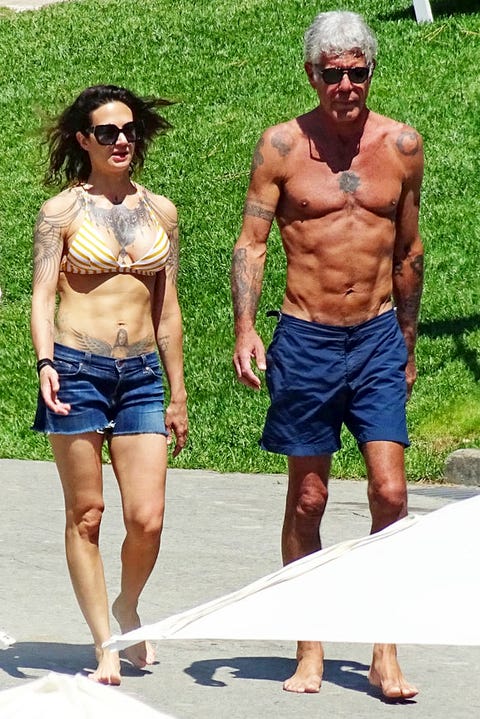 Last year he said he trains every day, no matter his location on the globe. In New York, he trains at Renzo Gracie Academy.
"An hour private and then an hour and a half general population. That's basically Fight Club," he told Nuvo.
in 2016, Bourdain divorced his wife Ottavia Busia (who ended up dating Renzo Gracie teammate Eddie Cummings). The couple had a daughter. Bourdain stated that that having to be away from his wife and child for about 250 days a year working on his television shows became a strain.
About his new healthy lifestyle as a result of BJJ:
"Look I've had to make adjustments," he acknowledged. "If I know with absolute certainty, as I do, that just about every day I'm going to be waking up early in the morning, going into the academy and getting my ass kicked by some 22-year-old wrestler, yeah it certainly changed my alcohol intake, I can tell you."

"I'm not drinking anywhere near what I used to and I'm much moderate in my eating habits — because you really pay a price for misbehavior immediately on the mat. You feel it and you pay a price in physical pain and humiliation."