Bleacher report put up the list. The only guy missing is Minotauro IMO. Check it out.
Source: Bleacherreport.com
Few fighters have what Eddie Bravo refers to as "the third option"—the ability to pull guard and pose a very real threat of ending the fight.
Given the dominance of wrestling in MMA, one would expect those who do not boast a wrestling pedigree to develop an offensive bottom game. However, surprisingly few fighters possess the kind of guard that would give pause to the many proficient wrestlers who populate the sport.
With that in mind, here is a rundown of the 10 most dangerous guard players in MMA today.
10. Frank Mir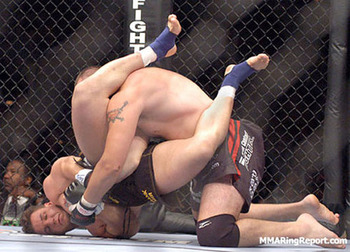 Often hailed as the most successful submission artist in UFC heavyweight history, Frank Mir would likely be much higher on this list if he had a more reliable defensive guard.
While the former UFC heavyweight champion is lethal from full guard, it is too easily passed and the threat is negated.
Still, Mir's numerous submissions from the bottom earn him a spot
9. Roger Gracie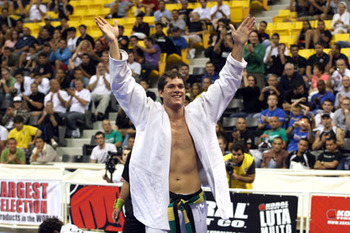 I'm cheating slightly with this one. Although Roger Gracie has an incredible offensive guard, he hasn't had the opportunity to put it to much use since making his way into MMA.
With that said, the multiple-time BJJ world champion has one of the most lethal guards in the history of jiu-jitsu.
The implied threat is enough to place him at No. 9.
8. Nate Diaz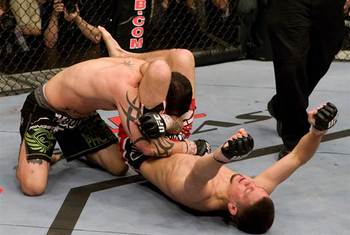 The younger Diaz brother mirrors his more popular sibling's fighting style in almost every way, including his uncanny ability to lock up triangles and armbars from the bottom.
The Stockton native has one of the most active guards in the sport. Rarely does Nate allow his opponent to simply rest in top position, instead forcing them to defend incessantly.
7. Nick Diaz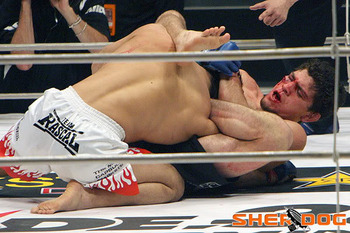 In truth, you could read the previous entry and it would apply equally to the older Diaz brother.
His beautiful guard work against the likes of Takanori Gomi and Evangelista Santos are all the evidence one needs in order to recognize Nick's prowess off his back.
Indeed, his offensive guard is one of the many reasons why a bout against Georges St-Pierre would be so compelling.
6. Demian Maia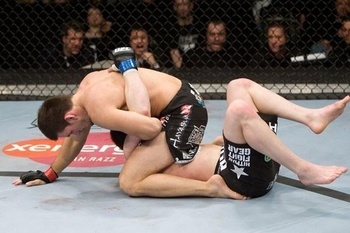 One of the most successful BJJ practitioners to ever enter the sport, Demian Maia made his way into the UFC and immediately began to show the fans why his submission game was so feared.
Although he often looks for sweeps from the bottom, the Brazilian is even more adept at baiting his opponents into the various traps that he sets.
He perhaps hasn't had the opportunity to display his guard as often as he would like, but the threat is undeniable.
5. Rousimar Palhares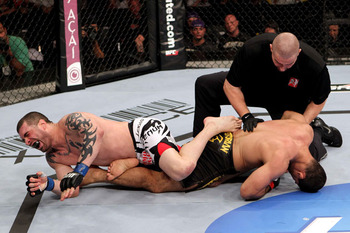 Palhares boasts the most unconventional guard on the list.
While most guard players are content to look for triangles, armbars and omoplatas, "Toquino" prefers to dive under and attack his opponents' legs.
It is fair to say that this preference has earned Palhares the reputation of being the most feared submission artist in MMA.
His leg locks are not only uncannily reliable, but he also applies them with the kind of crushing power that often shelves the recipient for several months.
Terrifying.
4. Shinya Aoki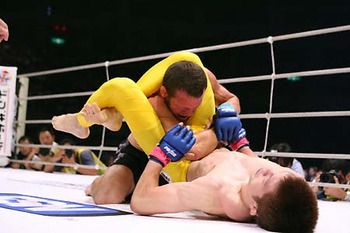 The Japanese submission sensation is a favorite of Bravo—and it's not hard to see why.
Aoki is one of the few on the list who will use the so-called third option as his first option. Indeed, he can often be found boasting fluorescent tights in order to gain a little extra traction when he locks up a submission.
In truth, I would rather be on my back against Aoki than be locked in his guard.
3. Paul Sass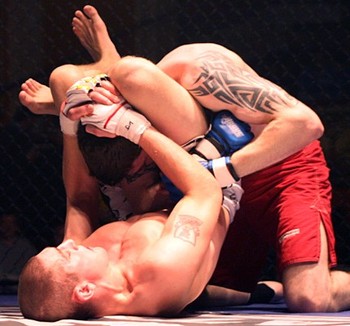 The unassuming Liverpudlian has the distinction of being the most one-dimensional guard-player on the list, while arguably being the most dangerous.
Sass almost invariably looks to lock up the triangle—or Sassangle, if you prefer—and succeeds with absurd frequency. Indeed, nine of his 13 wins have come by way of triangle, despite it being more predictable than death or taxes.
Oh, and his heel hook ain't bad, either.
2. Vinny Magalhaes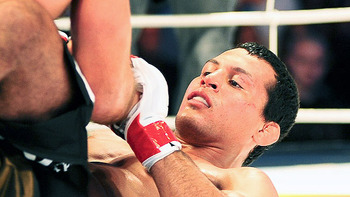 The multiple-time BJJ world champion—not to mention reigning ADCC champion—perhaps doesn't get the recognition he deserves.
A favorite of Joe Rogan, the former TUF star has the kind of guard that reminds you that a world class ground game is every bit as lethal as a knockout punch.
His offensive guard is likely only bettered by the next man on the list.
1. Fabricio Werdum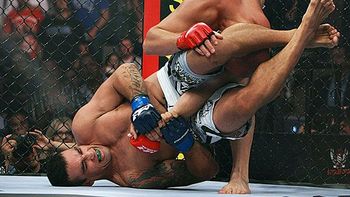 Werdum was Vinny Magalhaes' opponent in the aforementioned ADCC tournament, losing to his fellow Brazilian despite locking up an armbar for several minutes in the gold medal match.
It is a testament to how devastating Werdum's guard is that he tops the list even as a heavyweight. His weight shouldn't fool you, however. The man who dethroned Fedor Emelianenko—with a beautiful triangle/armbar combination—moves like a lightweight off his back.
He has more than earned his place at this list's summit.