The Granby roll is a wrestling reversal named for Granby High School in Norfolk, Virginia, where it was popularized by teacher and hall of fame wrestling coach Billy Martin.
A Granby roll is performed from an inferior position, usually when the top wrestler has a hold upon the lower wrestler's waist from the side or when moving to "take the back." The bottom wrestler rises slightly and cross steps under his own body, using it to post as they kick high with the other leg and perform a shoulder roll to the inside shoulder, either achieving an escape or an arm lock on the other wrestler.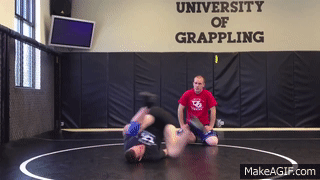 In BJJ and MMA it is used to recompose guard when someone is trying to pass your guard, or attacking your turtle.
If you struggle to retain your open guard then this simple granby roll technique demonstrated by David Morcegao will help:
Marcelo Garcia is a 9-time World Champion and known for getting to the back and finishing with the rear naked choke, even against much bigger opponents. This four-part system covers taking the back, jumping back takes, maintaining back control, and finishing from the back. Learn Marcelo Gracia's famous
Back Attack System
.
USE PROMO CODE "BJJEE TO GET 10% OFF.