Back in October 2013, top sporting website bleacherreport.com made a list of the top Eastern European (not including Russia) MMA fighters today. The countries that they considered to be part of Eastern Europe are the following: Albania, Armenia, Azerbaijan, Belarus, Bosnia and Herzegovina, Bulgaria, Croatia, the Czech Republic, Georgia, Hungary, Kosovo, Macedonia, Moldova, Montenegro, Poland, Romania, Serbia, Slovakia, Slovenia, and Ukraine.
The reason why they didn't include Russia is because it is its own entity from an MMA perspective and could easily comprise its own list. The list also doesn't include fighters who are of Eastern-European descent, but were born and/or grew up somewhere else.
Personally I think this list is missing the Slovakian Attila Veigh, Czech Republic's Karlos Vemola and Poland's Marcin Held. However it is still a very good list. 
Check it out:
10. Krzysztof Soszynski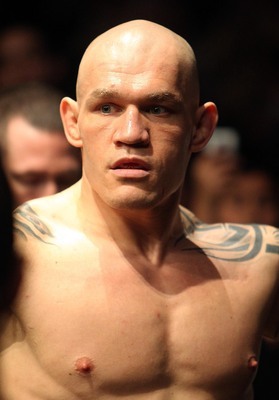 Tom Szczerbowski-USA TODAY Sports
Home nation: Poland
Division: Light heavyweight
Current promotion: UFC
Pro record: 26-12-1
Krzysztof Soszynski hasn't fought in nearly two years following a damaging knockout loss to Igor Pokrajac at UFC 140. The KO appeared to leave him with a concussion, and Soszynski, who moved from Poland to Canada at age 10, both retired and unretired in the immediate wake of the fight. If his health allows him to return, "The Polish Experiment" is a dangerous light heavyweight, with a solid (6-3) UFC pedigree, knockout power and a simple but effective submission game.
9.Marat Gafurov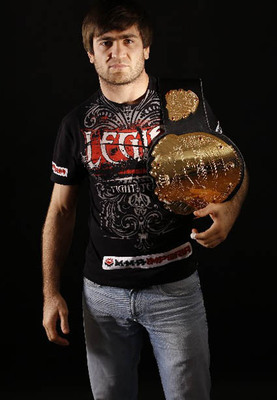 Photo credit: www.championnat.com
Home nation: Ukraine
Division: Featherweight
Current promotion: M-1 Global
Pro record: 8-0
Marat Gafurov has enjoyed a solid run since turning pro in 2010. The M-1 Global featherweight champ doesn't exactly have a major web presence; it took forever just to find his age (he's 28).

But thanks to YouTube, I was able to track down some of his handiwork and saw for myself that he has a striking attack diverseenough to pave the way for a buttery smooth ground game, which, to date, has notched him six submission victories.
8. Guram Gugenishvili

Photo credit: M-1 Global

Home nation: Georgia
Division: Heavyweight
Current promotion: M-1 Global
Pro record: 11-2
Guram Gugenishvili seemed to have it all. He was just like Bogey and Bacall. But if those two luminaries taught us anything, it's that happiness is of a fleeting nature in life.

Add "Gugenishvili" to that list of fallen-star surnames. The M-1 Global heavyweight champ and uber-prospect was 11-0 and set to make his American television debut for M-1 Challenge when he faced Pat Bennett on Showtime in July 2011.

But it was not to be. It turns out the Ukranian suffered some complex hand and wrist injuries that required extensive treatment and rehab. When he finally returned from that 16-month layoff, he was simply not the same fighter. He lost twice by TKO, both times to Kenny Garner.

That last fight was in December, and it's been radio silence ever since. Kind of a sad and mysterious story, in all honesty. But Gugenishvili's still only 27 and his massive potential and pre-injury track record is still enough to keep a spot warm for him on this list. Come back soon, big fella.
7. Ivan Buchinger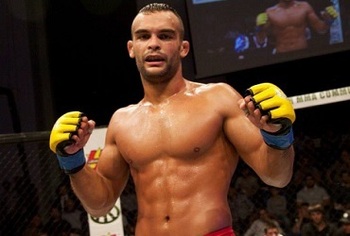 Photo credit: Dolly Clew, Cage Warriors
Home nation: Slovakia
Division: lightweight
Current promotion: Cage Warriors
Pro record: 23-4
The longtime veteran is still only 27 years old, and his only two losses in his last 13 fights came over former UFC roster-dwellar Anton Kuivanen and a current middle-of-the-pack UFC featherweight, name of Conor McGregor. He also can claim victory over MMA notables like Bellator phenom Frodo Khasbulaev.

Buchinger faces Mick Sinclair this Saturday at Cage Warriors 60, in the first round of the promotion's tournament for the vacant lightweight belt.

UPDATE: Buchinger defeated Sinclair by submission, but withdrew from the tournament after sustaining a rib injury in the contest.
6. Mirsad Bektic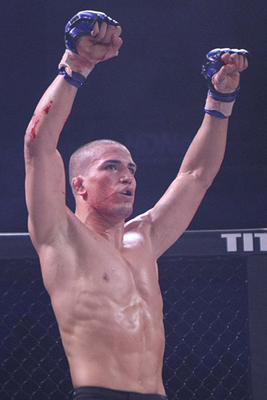 Photo credit: Keith Mills/Sherdog
Home nation: Bosnia and Herzegovina
Division: featherweight
Current promotion: Resurrection Fighting Alliance
Pro record: 6-0
Thanks to widespread civil unrest, Mirsad Bektic and his family left their homelandwhen Bektic was young and ended up in Lincoln, Neb., where young Mirsad was forced to adjust to a new culture without knowing a word of the language.

But adjust he did. Now 22, Bektic is one of the hottest featherweight prospects of any background, going 6-0 with only one of those fights going the distance.
5. Igor Pokrajac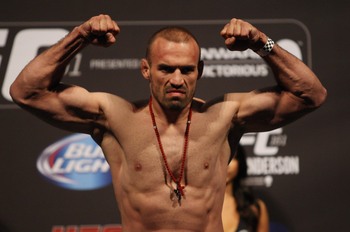 Bruce Fedyck-USA TODAY Sports
Home nation: Croatia
Division: light heavyweight
Current promotion: UFC
Pro record: 25-10 (1)
Saved by the drug test. If Joey Beltran hadn't popped for nandrolone back in December, Pokrajac would be on a three-fight losing streak and possibly out of the UFC. Also, if he had two wheels, he'd be a bicycle.

No one's going to strew flower petals in his path anytime soon, but Cro Cop's longtime training partner still has an adequate 4-5 (1) mark in the UFC, with wins over Soszynski, James Irvin and Fabio Maldonado to his name. No one loves the MMA prospecting game more than me, but at a certain level, you take the proven track record.

With that said, he's probably fighting for his UFC life when he faces Rafael Cavalcante in November. If he loses that, he'll probably take a bit of tumble down this and plenty of other lists.
4. Karol Bedorf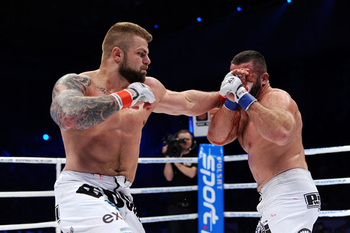 Photo credit: Piotr Pedziszewski/Sherdog
Home nation: Poland
Division: heavyweight
Current promotion: KSW
Pro record: 10-2
I haven't checked in a while, but if you look up freight-training in the dictionary, I'm almost certain you see a picture of Karol Bedorf.

Despite coming at you straight out of all those paper-towel commercials, Bedorf isn't the most well-known heavyweight from across the pond. But that's OK, because he's better than most of them.

He is a little slow in there, but he's not the KSW heavyweight champ because KSW makes its heavyweight champs run wind sprints. He's the champ because he hits like a truck, is built like an rhinoceros and has a concrete chin. Oh, and he's also a multi-time European jiu-jitsu champion.

Bedorf hit the radar in earnest in March, when he defeated UFC alum Oli Thompson. He won the KSW belt in his next contest.
3. Andrei Arlovski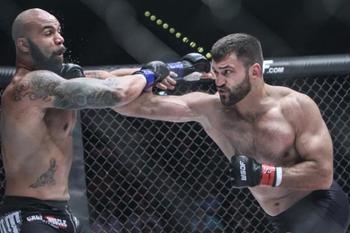 Andrei Arlovski (right) defeated Mike Kyle at World Series of Fighting 5. (Photo credit: Anthony Geathers/Sherdog)
Home nation: Belarus
Division: heavyweight
Current promotion: World Series of Fighting
Pro record: 20-10 (1)
Andrei Arlovski showed in defeating Mike Kyle that he still has something left in the old petrol tank. As long as he's still kicking, the former UFC champion is a dangerous man.

After that putrid 0-4 run in 2009-10, Arlovski underwent an unlikely resurgence, and he's 5-1-1 since. Yes, it has come against much lesser competition. But with the Kyle win in September, he showed he can still get it done at a high level.
2. Jan Blachowicz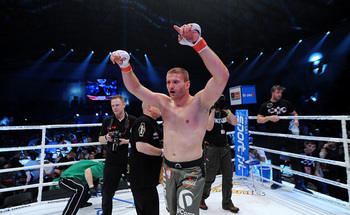 Photo credit: Piotr Pedziszewski/Sherdog
Home nation: Poland
Division: light heavyweight
Current promotion: KSW
Pro record: 17-3
In my book, 30-year-old JanBlachowicz is the best light heavyweight in the world today outside the UFC, and he would, undoubtedly, make a splash any time he wanted to enter the Octagon.

Blachowicz is the reigning KSW light heavyweight belt holder and currently rides a five-fight winning streak. You want quality? Four of those five opponents spent significant time in the UFC.

His body, not his skills, have to date been the restraints holding back his career. He lost all of 2009 to injuries, and his last defeat came by way of same. But he appears to have turned a corner now; his well-rounded game makes him a load for anyone. Keep the lamps trimmed and burning for this guy.
1. Mamed Khalidov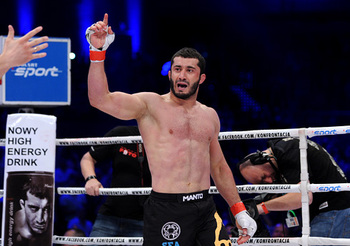 Photo credit: Piotr Pedziszewski/Sherdog
Home nation: Poland
Division: middleweight
Current promotion: KSW
Pro record: 27-4-2
The world just keeps setting 'em up, and Mamed Khalidov keeps knocking 'em down.

The KSW champ is unbeaten in his last eight, and that includes a submission of Kendall Grove, a chokeout of Matt Lindland and a knockout of Rodney Wallace.

Of his 27 wins, only one has gone the distance. Of the remaining, 11 wins came by knockout and 15 by submission. He can and will hurt you anywhere. The man is a machine.

The only downside? It looks like a stateside move is not in the cards. Bellator made a run in 2011, but either negotiation breakdowns or Khalidov's devotion to his Muslim faith (or both) ultimately scuttled a deal.

Fans will just have to stay tuned to KSW to catch this special talent in action. It's too bad, but as a wise-if-glib man once said, it is what it is.