Do you have an issue with your back? Are you in pain? Disc herniations are much more common than previously thought. Further, disc herniation may be asymptomatic. They may cause mild to moderate or confusing symptoms but they can also lead to serious, devastating and permanent injury.
In fact one recent study in Brazil found that out of 72 participants, 36 competitive and 36 recreational, chronic back pain was present in close to 81% of athletes (Reis, et al., 2015).
So how do you manage day to day life and make sure you don't aggravate the condition in every day type situations out of training? 
Physical Therapists Bob Schrupp & Brad Heineck first recommend Avoiding Prolonged Sitting. This type of problem is often related to sitting so regardless of the origin of injury you should stick to standing or lying back as often as possible.
Another thing to consider is Yoga. Often someone will express interest in it following injury but there are a lot of stretches you shouldn't be doing with certain injuries. The physical therapists go on to say that many of the poses that bend your back in this type position (pictured below) should be avoided.
Positions like these are actually likely to make your disc herniate more.
This is why they generally advise against Yoga.
If you have to sit sit with some type of lumbar support. Sit on a firm upright chair. Soft couch or a chair are not recommended.
They also suggest you avoid simultaneously bending and twisting. Naturally you probably won't be able to avoid this in training but there's no reason not to pay attention to it in your everyday routines. This is a typical motion when shoveling.
Full sit ups are also to be avoided. Especially the ones with a twist!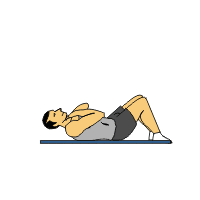 For full list of advice of things to avoid with a herniated disc press play below and let us hear your thoughts in the comment section!
If you have an armpit, you have a darce as Joel Bouhey shows you innovative ways to lock in this submission. Learn his system to
Darce Everywhere
.
USE PROMO CODE "BJJEE TO GET 10% OFF.